Introducing DPD University: Video Tutorials
Jason@DPD
May 21, 2012
3 Comments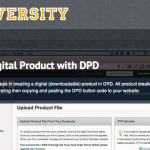 We're proud to announce DPD University, our new site for step-by-step screencast tutorials. These tutorials show you how to do basic and advanced tasks in DPD with easy to understand, plain English explanations of all the steps and options.
We're trying to cover the basics first like Creating a Digital Product and Configuring a New Store in DPD, but we're going to expand outward past core features to advanced techniques and customization options soon!
All of the screencasts are available in greater than 720p resolution and have download versions available on the Vimeo page for each video for offline viewing. To get a download version, simply click on the Vimeo logo on any video and find the Download button below the video.
We've launched the site with several tutorial videos and we'll be adding more regularly, which we'll announce here on the DPD blog.