New Year, New Features! UPS & FedEx Shipping Calculations, Constant Contact and Sendy Integrations, Bug Fixes
Jason@DPD
January 7, 2013
1 Comment
In our first release of the new year we're releasing some often requested shipping and email marketing integrations, as well as a few bug fixes and tweaks that cropped up during the holidays.
UPS and FedEx Shipping Calculations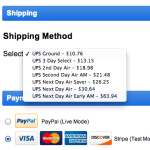 Now, in addition to table rate shipping, DPD vendors can enable automatic rate calculation for UPS and FedEx.
These new options are in addition to our existing simple table rate based shipping calculations, and you can enable any combination for use on your cart.
Constant Contract and Sendy Integrations
Adding to our ever growing list of stuff we integrate with, we've added Constant Contact and Sendy to our 3rd party mailing list integrations.
Email, Event, and Social Media marketing tools and solutions from Constant Contact make it easy to reach, engage, acquire, and retain customers or members.
Setting up Constant Contact in DPD
Sendy is a self hosted email newsletter application that lets you send trackable emails via Amazon Simple Email Service (SES). Complete with reports, subscriber & list management.
Bug Fixes and Tweaks included in this release:
Fixed subscription cancelation / closed account bug
Fixed rounding error when calculating multiple tax rates in the cart
Fixed quantity error on DPD IPN response, added tax, mc_shipping, shipping_method fields
Fixed PayPal refunds displaying the wrong sale amount after a refund was issued
Added accepted card type option to SagePay Direct payment method
E-commerce integrations now render on the "thankyou" page for free checkouts