New Payment Pending Page
Jacob@DPD
October 12, 2010
No Comments
As many of you have noticed, the payment pending page is popping up a lot more often than it used to. PayPal released an updated website a couple of weeks ago and removed one of the features we used to ensure quick, reliable payment. Our old pending page was really meant only to be displayed in extreme cases and was in all honesty a bit scary for your customers to see.
As of five minutes ago, we've changed the payment pending page to be a more friendly "working" page that looks like this: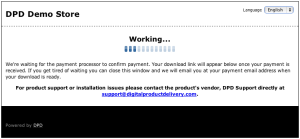 We've also changed this page to update every 15 seconds.
Also in this update:
Added product purchase limits. You can now offer limited availability products.
Your billing history now has printable invoices for your records.
Product key codes longer than 40 characters can now be entered without causing the code to split.
Combo/bundle products can now include tangible products. Previously only digital and key products were allowed to be bundled.
A minor JavaScript error was fixed in the cart in Internet Explorer (all version).