DPD Loves Olark
Jason@DPD
December 8, 2010
No Comments
This week we added a new feature to our website- live chat through Olark. The verdict so far? We love it. We don't often write about other services here, but we're really pleased and think that live chat could be a powerful tool to help our vendors with their sales and conversions so we're going to tell you our experience thus far-
Olark has a different approach to live chat than many other services- they use the common XMPP protocol for their chat servers instead of proprietary software. For those not up to date on chat protocols, the XMPP protocol is the same thing that Jabber, Google Talk, Facebook Chat, and a host of other chat services use. XMPP support is built in to every multi-protocol chat client and is a snap to set up.
Here at DPD that's pretty important- I'm on Windows 7, Jacob is on a Mac, and Scott gets the geek badge for developing on Ubuntu. We needed something that would work on all platforms and even our Android phones- Olark fit the bill.
Installation
Olark provides you with a bit of javascript to place in the footer of your site. Thats it. It took 30 seconds to integrate Olark with DPD, and 25 of those were waiting for the editor to open.
Client Setup and Usage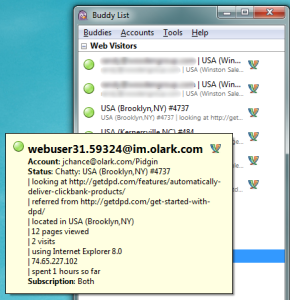 On my Windows desktop I use Pidgin to keep in contact with the other DPD guys as well as friends and family. Olark integrates with Pidgin using the XMPP protocol as you can see in the screenshot to the right. Visitors to your website are shown with some basic information- where they're from, what page their looking at, what page referred them to the site, and how long they've been browsing around on DPD.
We did a little programmer magic using Olark's API to automatically display usernames for logged in DPD users to help us be even more effective with support (the logged in visitor's usernames are blurred in the screenshot to protect our users privacy).
When a user sends a live chat request, it broadcasts a message to all the operators who are online and not "away." Any operator can reply and "claim" the chat, and if needed you can transfer them to someone else with a simple !transfer command in the chat window. You can also be proactive and pick someone from the list to initiate a chat from your end- you just open a chat window and start typing like you're sending a message to your Aunt Ruth.
Customization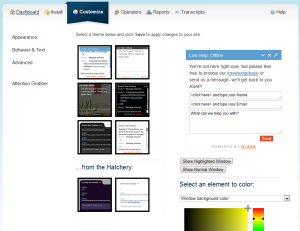 Olark lets you customize the chat box to your hearts content. They have several pre-made themes, and you can further customize the available themes to your liking.
There are a lot of extra customization features too- You can customize your offline message (as we've done with a link to our knowledge base), specify what email to send offline messages to, window behavior and options, and more.
Reports, Transcripts, and More
In addition to integrating with Google Analytics, Olark has built in stats from Mixpanel that show how many visitors have been to your site while you were online, how many you missed when you were offline, and how many chats you had for a given time period. This is great for figuring out the best times to offer live support!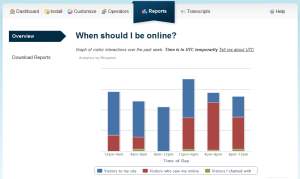 Olark can also optionally record transcripts and email them to a specified address, great for quality control, follow-up, and supervisory functions.
Olark's Hatchery is their experimental playground with some neat stuff in the works- you can optionally enable an auto-translate plugin that uses Google Translate or check out some new experimental themes. It's great to use a service that is under active development!
Support
We haven't really had any problems with the service, but Olark has a well documented API that let Jacob add our user data to the chat widget in minutes. For the one question I had, I chatted up Olark on their site and spoke to Zach, one of the Olark founders who promptly answered my question. He seems like a pretty swell guy too 🙂
Olark does have premium email support for paid users and I expect that will be just as great as the rest of our Olark experience when we need it.
The Verdict? We love it.
There are a lot of things we like about Olark– it's pretty awesome to see the visitors on your site, where they came from, and where they are in the world in real time. The live chat works well and the extreme ease of setting it up in our own chat clients, with no annoying software, gets bonus points in our book. We've generated new happy customers with the live chat feature, and thats really the bottom line.
Olark plans with unlimited conversations start at $15/mo and they even offer a free plan limited to 20 conversations a month so you can try it out and see if you like it. This is one service we wholeheartedly recommend to our vendors and we bet it will improve your conversions too.
DPD is not affiliated with Olark in any way, we're just happy customers 🙂