Feb 24, 2011 Update: New Button Creator Pages
Jason@DPD
February 24, 2011
No Comments
Only minutes ago we published an update to the DPD servers that revamps the product button creation process and allows you to generate buttons for all products in a store on a single page.
We've never really been a fan of having to go to each product individually, open the button creator, selecting the style for each button, etc. so we've done our best to smooth the process out- Now all you need to do is setup your store in DPD, create your products, and click the green Button Creator link to generate button code for all your products at the same time. It's a HUGE time saver for setting up many products at once. Pick a button style and get all the buttons for your entire website in one place!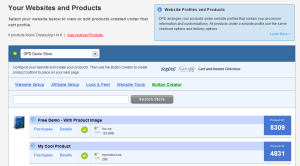 The cart button creator gives you both the view cart / checkout button code and individual add-to-cart button codes for each product. You have the option of choosing between cart with lightbox (the floaty JavaScript window thing), cart without lightbox, or plain text links for integration with your own button graphics on your site.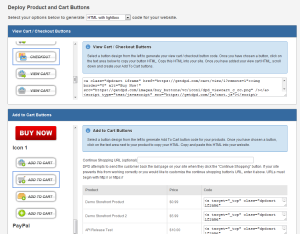 The instant checkout button creator generates instant checkout buttons (obviously) with your choice of processor if more than one is active on a storefront. You can choose from button code or plain text links like the add-to-cart buttons.
This update is fairly small but it's paving the way for some big improvements for DPD- soon buttons will not be the only thing you can generate for your products and customizing your checkout experience is going to be more awesome than ever. 😉