New Feature: MP3 Track Preview Player
Jason@DPD
July 14, 2011
1 Comment
We're happy to announce that today we've published an update to DPD that gives vendors the ability to create an embedded MP3 track preview player in their site for MP3 audio products sold and delivered through DPD. The only prerequisite to using the track preview feature is that the product file must be an MP3 audio file that is not contained in a zip or other container.
The MP3 preview player is based on the popular and easy to customize AudioPlayer flash based player. Vendors can select any segment of their MP3 product file to play in the preview player, up to 30 seconds in length. Both the player and music sample clip are delivered from DPD servers so you can use this feature on free web hosts and other limited space websites. The mp3 preview uses its own resampled mp3 track and not the actual product file so it is impossible to exploit the player to download your paid mp3.
To create a MP3 preview for your audio product in DPD, simply go to the product's details page from your product list.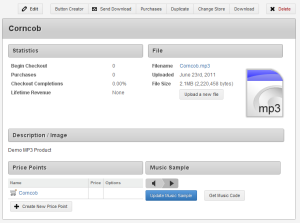 From there you'll see the Music Sample section where you can set the start and end points (in seconds) to create your preview track.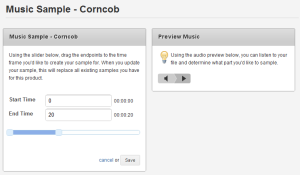 Once you've saved your preview track you can grab the embed code from your details page and insert it in to your web page.
Here is an example player with no customization done:
Loading Music Player…
Full details and all the available configuration options are covered in the article Creating MP3 Samples in the DPD Knowledgebase.