July 26 Update: New and Improved DPD Cart
Jason@DPD
July 25, 2011
4 Comments
Over the past few months we've been working on a new and improved DPD checkout experience for buyers. We went in to the project with a few key goals in mind:
To allow for greater customization and integration of the DPD checkout and delivery process with vendor sites
Lay the groundwork for more processors, including merchant accounts
To build a system where we could add more advanced features that vendors were asking for
Today we've published an update that includes the new and improved DPD Cart. This is a total cart rewrite and includes every ecommerce best practice we could cram in to it. Taking information from industry reports, case studies of global ecommerce sites, and more we've done our best to make this the best converting checkout experience possible for your stores.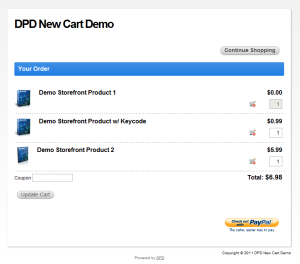 You can preview the default theme for the new cart here:
Add to Cart:
Demo Product ($0.00)
Demo Product w/ Key ($0.99)
Customization
The new DPD cart features a theme system that is 100% customizable by you to completely match the look and feel of your website. No longer do you have to load the cart in a lightbox or take your customers to a page that looks like its from a different website- checkout and delivery can be seamlessly integrated in to your website.
To show you the level of customization now possible, here is an Add to Cart button that will add a demo product to a customized template: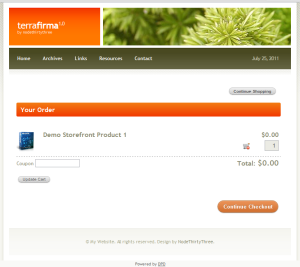 Demo Product ($0.00)
To accomplish this, the new theme system uses a Layout Template that serves as a "wrapper" for all checkout and delivery pages. Most vendors will only need to edit this layout to match the DPD cart to their site's design. For those who want to do more in depth customization, we've also provided individual page templates that you can edit to your heart's content.
The DPD checkout and delivery process is secured by SSL as always, and the all new asset manager allows you to upload your images, stylesheets, and javascript files to DPD so that SSL errors are not thrown by files hosted elsewhere.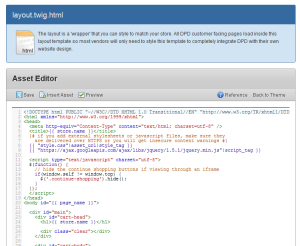 The new theme system uses the popular TWIG template language and the DPD Template Reference clearly documents all available variables and options.
Your own Sub-Domain
The new cart and checkout system is hosted on a custom, seperate sub-domain for each store. Your checkout and delivery will now take place on YOURNAME.dpdcart.com, adding another level of integration and professionalism to your store.
Hosted Product Pages
For those selling without a website, through ads, mobile apps, or just want DPD to host the product pages the new cart also includes hosted product detail pages and index view that include the product description, image, and add-to-cart button. This product detail page and index view is wrapped in the Layout Template and styled by your own custom css / images to match the rest of your checkout process. There is no requirement to use the hosted product pages- they're completely optional and you can continue to sell with add-to-cart and buy now buttons. You can opt out of displaying your products on the cart view by deselecting the option when creating or editing your product.
We'll be adding more features to the hosted product pages as well as other DPD generated page in the future.
Coming Features
The new cart checkout and delivery system will allow for many new features in the coming months. Our old cart, while effective, was based on older technology and limiting on the space we had to work with. With the new cart we'll be able to add additional pages, provide for a PCI compliant checkout experience for Merchant Accounts (with Authorize.net coming soon, more later) and have more room to offer value added services, cross sales, upsales, and more.
This new cart is the groundwork for hundreds of new features that vendors have been asking for in the future.
Upgrading to the New Cart and Checkout
While we've thoroughly tested the new cart and checkout we're going to require that vendors contact support to upgrade their current cart to the new system, at least for the time being. We want to work with early adopters to make sure their theme editing needs are met and get feedback for improvements before releasing the new cart to everyone.
Both the layout and theme page editors have a preview option to see your changes in real time before making them active for your buyers so there is absolutely no risk in diving in and customizing your new cart before switching it to your active checkout. If you make a mistake you can always add a new, clean version of the DPD Standard cart to your theme manager.
If you'd like to use the new and improved cart and checkout for your store, please log in to DPD and contact Support for 1-on-1 setup and assistance.