New Feature: Universal 3rd Party Conversion Tracking Integration
Jason@DPD
July 6, 2012
8 Comments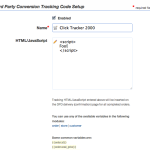 Recently we've had a lot of requests to integrate various 3rd party conversion and affiliate tracking systems with DPD. These integrations use either a bit of JavaScript or a HTML tracking pixel image on the confirmation page of your store to track sales.
Well, we've just released a universal 3rd party HTML / JavaScript Conversion Tracking integration!
This integration will allow you to place any 3rd party conversion or affiliate tracking code on your store's delivery / order confirmation page. The integration also includes variables for order, customer, and store values so you can pass information like the order total, purchase ID, or customer info in to your tracking code.
The integration is easy to use:
1. Log in to your DPD account
2. Go to Integrations in the left menu
3. Add the "3rd Party Conversion Tracking Code" integration to your store
4. Name the integration and paste your code.
5. Save. That's it!
Links to the available variables and reference documentation are on the setup page.