Selling Mac Software? Integrate DPD with Bodega and add a new sales channel
Jason@DPD
July 26, 2012
1 Comment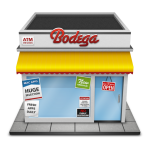 Several months ago at a vendor's request we added an integration that will allow the DPD checkout work inside Bodega, a marketplace for browsing and discovering new Mac apps. The integration adds the required JavaScript to report sales to Bodega when the sale occurs inside the app.
We didn't really tell anyone about it though- it was right in the middle of the new cart and checkout flow launching and we just got covered up. Sorry! We aim to remedy that with this post!
What is Bodega?
Mac developers have always had challenges getting their great products into the channel, and then being successful once they got there. For Mac developers everywhere, Bodega serves as a perfect addition to their channel and product sales strategies. Bodega provides regular, consistent access to a large and growing audience base directly from Mac desktops around the world.
Developers who wish to include their Mac products in Bodega enjoy the following key benefits:
No charge for membership in the Bodega Developer Program.
For each sale taking place in Bodega, Freshcode charges the developer 10% of the application's sale price- the developer retains 90% of the sale price.
No API restrictions for applications submitted for inclusion in Bodega.
Zero interference in developer/customer interaction.
A wide variety of advertising, marketing, and co-marketing programs for Bodega developers.
Developer-owned deployment and management of their product upgrade/update strategy, as they always have.
Bodega automatically checks for application updates for all Sparkle-endowed applications on the user's hard drive each time it is launched.
Developers need not create a special version of their app or their DPD checkout for inclusion in Bodega.
No formal application vetting or approval processes.
Bodega is the new way for customers to discover and purchase software, and for developers to reach customers on an inexpensive, highly-profitable, ongoing basis.
Using Bodega with DPD
Integrating your current DPD cart and checkout with Bodega is ridiculously easy.
1. Register your app with Boedga
2. Log in to DPD and select the store selling your app.
3. Go to Integrations in the left menu and +Add the Bodega integration.
4. Check the box to enable the integration and save.
That's it! All checkouts that occur inside the Bodega app store app will automatically be tracked and sale information passed to Bodega using a bit of JavaScript code on the delivery page.
For sales that occur outside Bodega (by users simply going to your website) nothing changes. It's that easy.