Sep 21 Update: PDF Stamping Improvements and Features to Save You Time
Jason@DPD
September 21, 2012
No Comments
In this update we're releasing an improvement to PDF stamping and a number of small features and requests designed to save you (and us!) time by giving you the ability to do some new things yourself, without contacting us and waiting for a response.
PDF Stamping Page Range
PDF stamping now has the ability to specify a start page and end page for the stamp. This is for when you have a pretty cover that you don't want stamped, but want to stamp every other page. Or when you only want to stamp page 37. Or 23-42. You get the picture!
To set a page range to stamp, simply enter the start and end pages. Page numbering starts at 1. Leave the end value blank to stamp all pages until end of document, or specify a start and end range stamp only a few pages in the middle.
Change Your Own Username
DPD automatically sets your username to the email you use to sign up. Sometimes, people want to change their username to a different email for various reasons. Now you can!
By going to Account > Profile, you can now change your DPD login username along with your email, password, and everything else you're used to.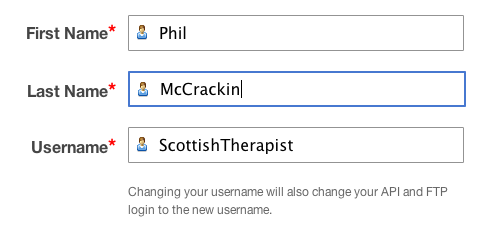 Manual Unsubscribe from Newsletters for Customers
The DPD newsletter feature is wildly popular- we send tens of thousands of emails a month on behalf of vendors to their customers. In every email that goes out, DPD automatically includes an unsubscribe link at the bottom so that if your customers don't want to receive email from you, they can unsubscribe. We do this for CAN-SPAM law compliance and because it's the right thing to do.
Even though every single email has an unsubscribe link, for some reason vendors keep getting asked by their customers to unsubscribe them manually. Yeah, we don't know either. But now that's ok, because vendors can now manually unsubscribe customers from store communications!
To unsubscribe someone, go to the Customer list for your store in the left menu, find the customer and click on their email address to open the Customer page. You'll see a small unsubscribe link there.
Better Coupon Errors on the Cart
There are a ton of different reasons why a coupon can't be used. The product might not be coupon eligible, conditions required for the coupon like cart total or number of items in the cart might not be met, or the coupon might be invalid. Previously, we showed a generic error when a coupon couldn't be used. The problem is, we had a ton of vendors asking us why their coupon was "broken" and it was a real pain to figure out the exact reason why a coupon was not applying for both vendors and us.
Now, coupons give a more specific error message explaining why they're not being applied.
Better Sale Notifications for Vendors
Sale notifications from DPD to you guys to let you know you've had a sale have been improved. We now include the items in the order and buyer information. Nothing ground breaking, but should save you guys from having to log in and see what was sold. Or, as the vendor who requested it put, it keep them from having to log in and look while "traveling around the world with a residual income from selling PDF files", which we think is just awesome.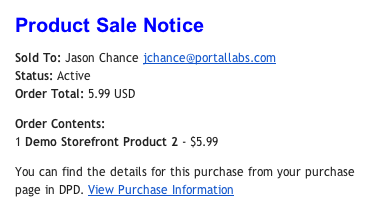 Other minor changes since the last update:
Fixed a problem when customers had an item in their cart that the vendor then deleted, causing a cart error.
Fixed an error on the conversion tracking integration when no customer is available
Small tweaks to PayPal Express Checkout payment method
Added an optional keycode label to the theme > delivery page options
fixed some typos in the vendor area