Using DPD's Multiple Price Point Feature
Jason@DPD
January 6, 2014
6 Comments
One of the least known and understood features of DPD, multiple price points allow you to sell the same product for multiple prices.
How Multiple Price Points Work
There are a few basic rules with multiple price points:
All price points for a product deliver the same product, they just charge a different price
Anyone with the price point buy URL can purchase the product for that price
When you create a product in DPD, you set the "default" price. Alternate price points override the default price and can be higher or lower.
If an alternate price point is deleted, DPD will redirect any buyers who visit that price point URL to the default price of the product.
Alternate price points are not displayed on the cart index or anywhere else- they are effectively "hidden" prices.
You can selectively disable the affiliate system for any price point, so if you don't want affiliates getting credit for discounted promotions you can do so.


In this article we're going to go over a handful of sales scenarios using these rules and show you how you can use them to run your own promotions and sales variants of the same product, without using multiple product slots. Finally, we'll show you how to create multiple price points quickly and easily for any product.
Selling discounted upgrades to previous buyers
In this scenario, lets say you sell a customer Version 1.0 of your product. Eventually, you come out with new and improved Version 2.0.
DPD allows you to export your customer list to CSV as well as automatically send buyers info to one of our supported 3rd party mailing list managers. You can easily create a new, discounted price point for your Version 2.0 product and send the discounted alternate price point buy link directly to your previous buyers while still offering Version 2.0 at the full retail price on your website.

---
Discounting an item to a mailing list
Similar to the scenario above, lets say you have a mailing list where you send special offers to your customers. You can offer your product for full price on your website using the default price while using the multiple price point feature to send a discounted price point to your mailing list to entice sales.
If you decide to make it a limited time promotion, you can later delete the alternate price point and anyone who follows the link in the email will get automatically redirected to the product's default price.

---
Selling multiple license tiers for a product
Many vendors who sell business and professional software and books offer multiple seat licensing to companies. For example, you might sell one license of your book for $19.99 or a 5-pack for $99.99.
Since no matter how many licenses they buy they're still going to get one download of the product (having 5 download buttons for the same file would be silly) you can easily accommodate this sales setup using the multiple price point feature. You would just need to create your product with the default 1 license price, then create alternate price points for multi-license packs.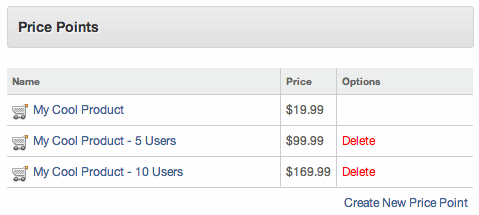 ---
Limited time promotions without coupons
Popular with people who post on forums (especially "Warrior Forum" WSOs and other marketing related forums), limited time promotions without coupons are possible by using multiple price points. To achieve this, all you need to do is create your discounted price point and share the buy button or URL. When you're ready to end the promotion on a set date or after a set number of sales, simply delete the discounted price point.
Anyone who follows the buy link to the now deleted discounted price point will be automatically redirected to the full, non-special retail price.
This is handy because it doesn't require a coupon to use. And, unlike changing the default price of your product which will affect all buttons for that product everywhere, using an alternate price point allows you to share it with the specific marketing channels you choose while still offering full retail to the rest of the world.

---
Selling different support levels for the same product
Similar to selling multiple license tiers, if you offer different support packages with the same downloadable product you can use multiple price points to offer those packages without using up multiple product slots.
Just create your product with it's default, lowest level of support and then create a price point for your various support options. If you ever decide to stop offering a specific support option, anyone with the link will be automatically redirected to the default price.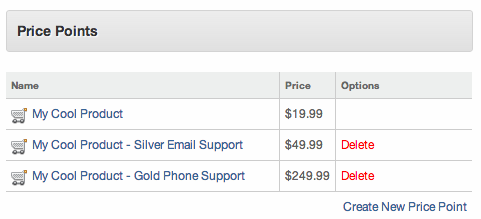 ---
How to Create Multiple Price Points
Creating a price point is easy:
1. Log in to DPD
2. Go to Products in the left menu to show the product list
3. For the product you want to create an alternate price point for, click its details link


4. Scroll down to the Price Points section and select "Create New Price Point"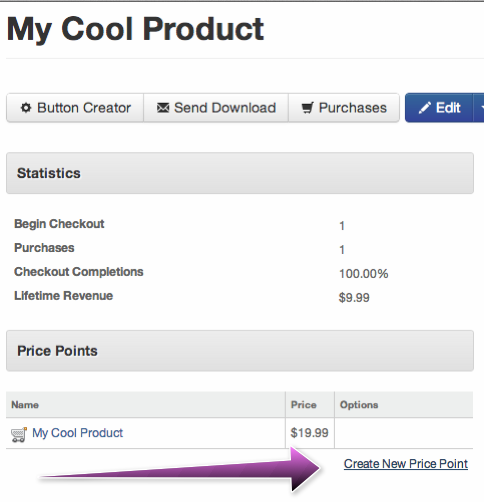 5. Enter your display name you want shown in the cart, if you want this product to be available for affiliate sales, and the price you want to charge, then save.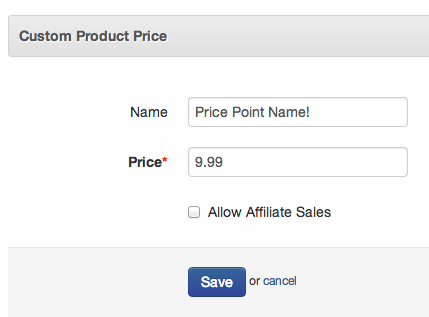 That's it! Your new price point is created.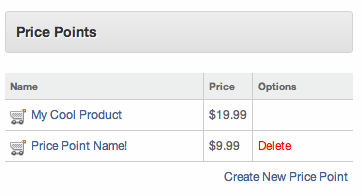 To deploy a link or button to your new price point, go to the button creator link for your product: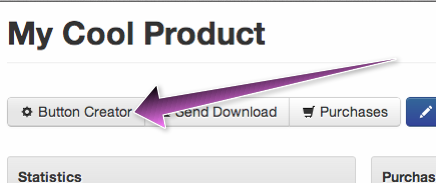 On the button creator page, your new price point will be listed along with your default price in the Product selection- just pick the price you want to create a button or link for and copy and paste the code as you normally would.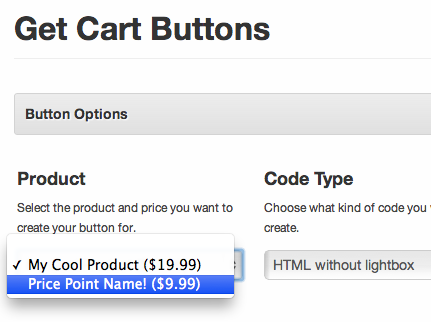 That's it! Remember- if you delete an alternate price point anyone who follows that link from an old post or email will automatically be redirected to the default price so you'll never miss a potential sale. If you have any questions or comments about the multiple price point feature drop us a comment below or shoot us a support ticket- we'll be happy to help!