You can now integrate DPD with Drip Email Marketing
Jason@DPD
September 4, 2014
No Comments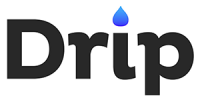 The fine folks at Drip, an email marketing automation company, have written integration instructions for DPD using our notification URL feature. Now without writing a line of code you can now trigger almost any action in Drip when someone makes a purchase through DPD.
What makes Drip special? From Drip's website:
Most email service providers (ESPs) are built to send email newsletters to a static list of subscribers. Drip can do this as well, but our main differentiation from traditional ESPs is our email automation. This makes it dead simple to move people into and out of multiple autoresponder sequences based on things they do: click certain links, open certain emails, express interest in a topic, etc…

Drip is not focused solely on a specific phase of email sending such as marketing or customer retention. We have invested heavily to support the following five stages of email sending: marketing, lead nurturing, trial lifecycle, customer retention/lifecycle, and post-cancellation.

We are laser-focused on serving the unique needs of SaaS applications and sellers of digital goods such as software, ebooks and online courses.
Their Drip integration instructions for DPD are straightforward and easy to understand- its essentially copy and paste a URL from Drip in to the DPD notification URL integration and then tell Drip what you want to do with the buyers.
We've been in contact with the Drip team and we'll do our best to get help for any DPD vendors that need assistance with integrating the two services!