Announcing DPD Subscription Areas and Drip Feed Content
Jason@DPD
June 8, 2015
8 Comments
This weekend we released support for subscription areas in DPD. Vendors can now create their own DPD hosted subscriber "mini-site" and sell recurring subscriptions for access to content. This massive update includes many new features enabling you to sell access to scheduled content, drip feed subscriptions, and paid podcasts.
Based on the feedback and usage of our limited private beta of subscription stores we have modernized the subscriber area, added numerous features such as search, archives, better subscriber management, and an all new post interface, and changed the layout of content both in the admin and subscriber area for better readability.
The Subscriber Area
The all new subscriber area features a responsive design like our cart and checkout and layout optimized for readability and the way subscribers consume content.
Subscriber Index
The subscriber index is the first seen after subscribers log in. It has the first post in full, with the most recent posts below.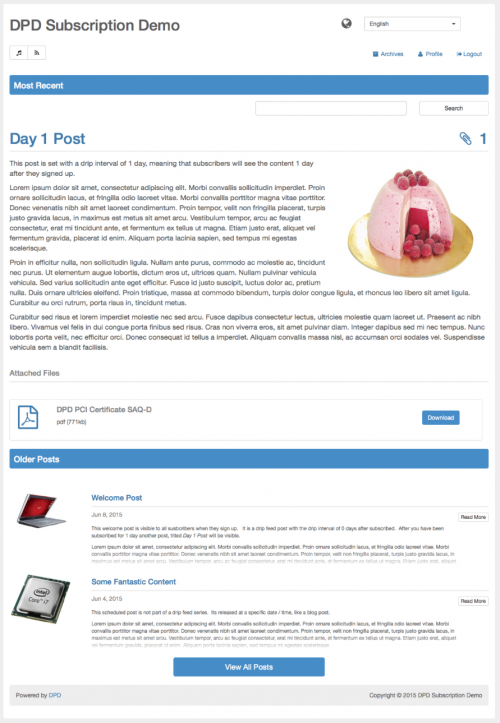 Post Page
Each post opens to its own post page, with any related content and downloads.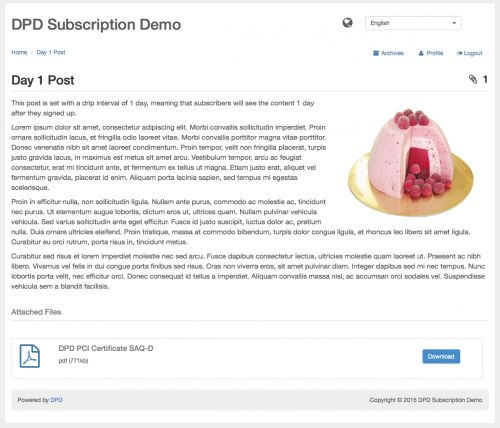 Archives / Search
The searchable archives page lists all posts in a compact list format. Both the post title and contents are searchable.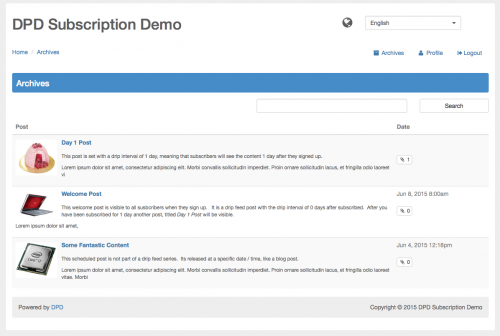 Responsive Design for Mobile
Like our responsive cart and checkout, we've optimized the entire subscriber area for viewing on mobile devices.
Creating a New Subscriber Area
We've added a wizard that guides you through creating your new subscriber area. To get started, create a new store. When prompted, select Subscriptions and the wizard will guide you through the process, step by step.
We've created a KB article to explain all the features and options during setup:
Getting Started with a DPD Subscriber Area
Multiple Ways to Post Content
DPD subscriber areas let you post content two ways- scheduled content and Drip Feed posts. The new post page in the DPD admin allows you to write content, attach files and a post image, and specify how this content will be released.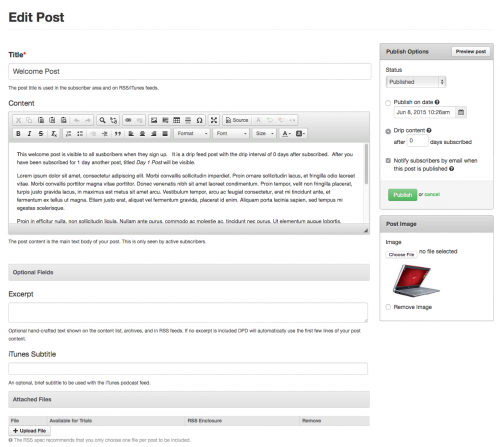 Scheduled Content
Like a traditional blog, you can schedule posts to go live on a specific date / time (or immediately) and all subscribers will see the post when it is published. You can attach downloads and a post image to your posts.
For more information on posting content:
Drip Feed Content
One of the most popular requests we've ever had, DPD now supports drip feed content series where you specify what day after signup that a subscriber gets access to content. Drip feed posts allow you to queue up content and release it for each individual subscriber when they reach the drip feed interval.

For more information on creating drip feed posts:
Setting up a Drip Feed Series of Posts
Paid Postcast / RSS Support
You can optionally enable paid podcast / RSS feed support so that your subscribers can view your content feed in iTunes or their favorite feed reader. This will add the iTunes and RSS buttons you see in the index screenshot above to your subscriber site.
Check out the KB article below for more information on enabling podcast support:
Setting up a Paid Podcast Feed
Managing Subscribers
You can manage your subscribers from the DPD admin. Easy search tools let you find subscribers and modify their subscriptions, send a password reset, or cancel the subscriber.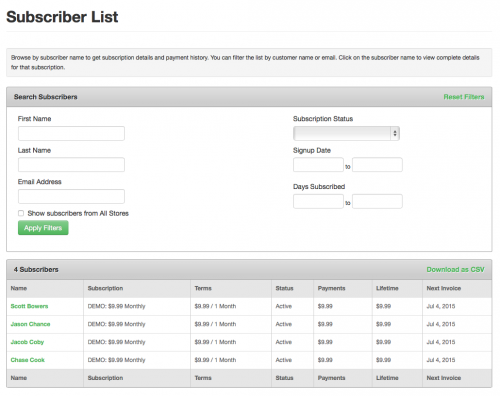 You can drill down to each subscriber by clicking their name to find out how long they've been subscribed, their payment history, and perform account operations.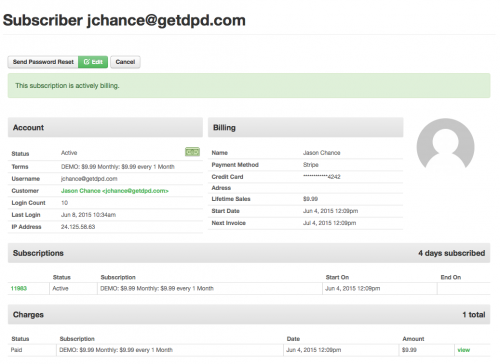 For more information on managing subscribers:
Need more help?
You can view all the documentation available for the DPD subscriber area in the new knowledgebase category listed below:
Subscriber Areas: Selling Access to Paid Subscription Content with DPD
We're also here for you! Send us a live chat or submit a support request and one of our support team will do our best to get you started selling subscriptions and drip feed content with DPD. We welcome your feedback!