Jason@DPD
December 30, 2014
3 Comments
We've just released several small tweaks to our EU-VAT 2015 support, new invoice, and admin:
EU-VAT 2015 Custom Rates
You can now enter your own country specific rates for EU-VAT countries that override the default rate. While the default published rates will work for most people, there are some special classes of product in some countries that have a non-standard rate. You can now enter the optional rate in the VAT tax integration.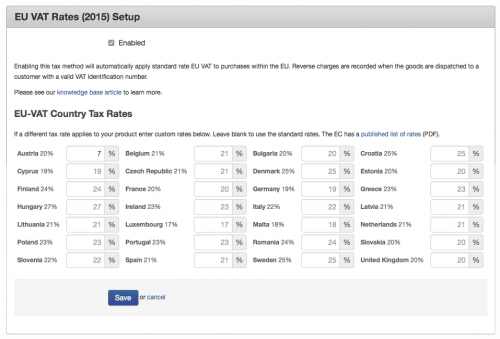 Invoice Tweaks:
Based on feedback on our new invoice format, we've done the following:
Compacted the layout so that it prints on one page. Note: Adding extra text to the invoice, or invoices with many items may force it to print on more than 1 page.
Fixed store logo on invoices where it wasn't displaying in some cases
Added invoice option to disaply custom fields
Added invoice.css to theme assets so you can customize the invoice CSS to your liking
Added Country Blacklist Rules:
For vendors who want to restrict sale of their products from specific countries you can now create Country blacklist rules by going to Blacklist in the left menu, adding a new rule, and selecting the country.
The country blacklist works on GeoIP lookup using the buyer's IP address.
Vendors can also always edit their Supported Countries under Shipping to remove countries they do not want to allow sale to from the shipping address country selector.