Jason@DPD
May 7, 2014
4 Comments
Today we released an update to our coupon module that makes it easier to browse and manage coupons, especially when you have created many single use coupon or discount codes.
Coupon List Improvements
The coupon list now features a more compact table that lists more coupons at once and includes filters so you view specific coupon status, or a specific coupon name.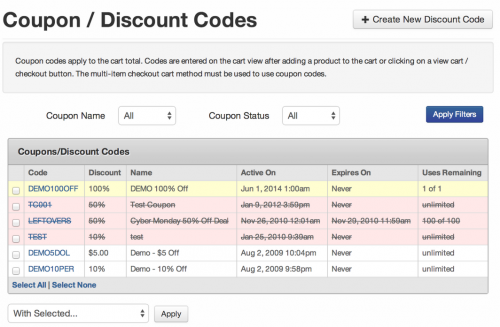 Color Coded Coupon Display
We have also color coded the coupon display to show inactive coupons as red and future coupons (which are not yet active but aren't technically "inactive") as yellow.
We hope being able to see at a glance the status of a coupon by its color will make it easier to understand what is going on with a specific code (and stop vendors from having to email us asking why their future coupon shows as "inactive" like an expired coupon).
Bulk Edit Coupon Status and Delete Coupons
In addition to the list and filter improvements, we have also added the ability to bulk edit the coupon status or bulk delete coupon codes. Simply check the box and use the menu at the bottom to select the action.
Coming Soon
This is a minor update but we're not resting on our laurels- The entire DPD team is in the middle of a migration to move all DPD servers to Amazon Web Services. We've always used Amazon S3 for product backup, storage, and delivery, and now we're moving everything else for greater scalability, speed improvements, and redundancy.
We will be making a dedicated post about the AWS migration and what it will mean for vendors soon.